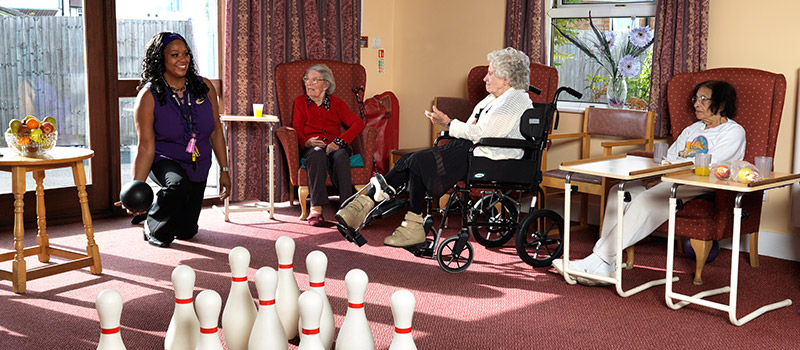 Activites & Events
Activities are a massively important aspect of the daily life here at Vicarage Farm Care Home.  We assist in developing and enhancing individual activity schedules which are personalized to the personal lives and interests of the residents.
All of our activities at the care home are designed to not only mentally and physically stimulate our residents, but to enhance their quality of life and wellbeing.
Overall our activities are designed to maintain and improve our resident's physical, social and cognitive skills through one-on-one interaction.
Our activities include:
Resident Groups & Games – We host special resident groups to help your loved one enjoy their hobbies and meet other residents with similar interests who enjoy the same things they do. 
Music & Entertainment – At Vicarage Farm, we invite many musical guests to join us and speak the universal language of music, after all who doesn't love to tap their feet or listen to a familiar tune?  Whether your loved one enjoys the classical styling of the piano, a barbershop quartet, the happy melody of an Accordion, or Rock 'n' roll to the 50's tunes, our entertainers provide something for everyone!  We also enjoy special event evening dances.
Reminiscing & Cognitive Activities – Recalling specific memories is a very crucial element in cognitive advancement for you or your loved ones.  Our activities program ensures that our residents are given ample stimulation to remember the good old days, and share their life stories with us.
Art & Sensory Activities - We like to discover everyone's creative side with our art and sensory activities.  Our residents are able to express themselves through their creativity and use their senses to trigger specific memories.  Whatever the outcome, it's always enjoyable to learn more about one another.
Outdoor Activities - Everyone loves the great outdoors, and our residents are no exception.  Each month we pack our calendar full of events to take advantage of the beauty of the season.  Whether it be snacks on the patio or gardening, we invite everyone to join us for a breath of fresh air.
Outings – It is important for us to arrange regular trips for residents so that they are able to stay connected with their community.  Vicarage Farm Care Home schedules outings to places such as local Churches, Temples, Garden shows and local attractions and picnics.